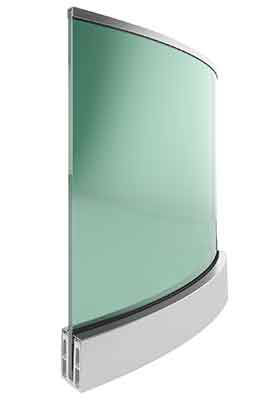 BTS B50 curved glass balustrade system is suitable for bending and installation. System has 5cm base shoes or 200cm full length aluminium profile to fix the glass panes. With the help of plastic wedges, you easily fix the glass into the base shoes. Aluminium covers have enough thickness to be bended. You can make the bending process according to radius dimensions in your projects.
For curved glass balustrades it is recommended to use painted or powder coated railing finishes rather than anodised finishes. Anodised finishes have a hard brittle surface and may crack during the bending process showing visible stretch marks on the railing. The paint finishes of curved railings can stretch and don't have any issue. That is why it is better to use a paint finish, a white colour or a RAL colour.
Curved glass balustrades installation is more complex than straight banisters and requires experience. We recommend to employ an experienced installer who has fitted curved systems and will be able to deal with curved panels adjustments.
Material: Aluminium
Installation Type: 5cm Base shoes / Full Length Aluminium Profile (l:200cm)
Mounting Type: Top mount
Cladding Option: Anodized / RAL Powder coated
Glass Thickness: 8+8mm compatible